Description:
Pre-heating system with Stainless steel corrugated coil in the tank offers a unique heat transfer system which enables you have instant hot water from your pre-heating tank. During the day, the Stainless steel corrugated coil is heated by the hot water. When hot water is demanded, the cold water flows through the Stainless steel corrugated coil and proceeds to flow to the hot water demand. It's the best solution for the area where the water quality is inferior.
OUR "Pre-heating" solar water heater provides mains pressure via a high efficiency Stainless steel corrugated coil heat exchanger in the tank. The way in which the mains pressure solar collector heats water is the same as the non-pressure solar collector. Rather than using the water in the tank directly as the non-pressure does, the type uses a 15m-40m Stainless steel corrugated coil. A heat exchanger inside the tank provides more than 1.2m ² of heat transfer area.
We have below materials for your selection:
Outer tank: Color steel plate, stainless steel plate
Bracket (support): Galvanized steel plate with plastic spraying (1.2/1.5mm), stainless steel plate, and aluminum alloy.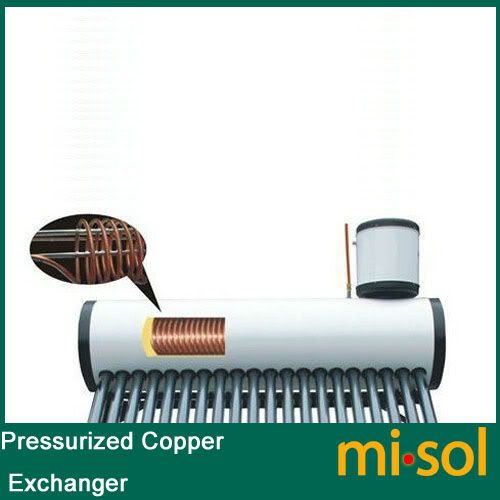 Application area:
1) It's the best solution for the areas where the water quality is inferior ;
2) Daily needs of hot water;
3) Cold area and have a great demand of hot water