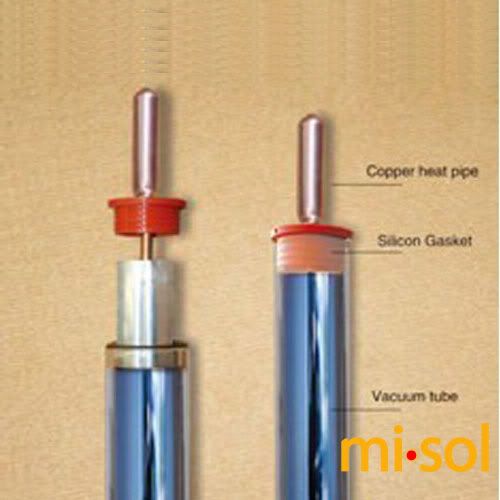 Heat pipe vacuum tube working principle:
1. On heat-pipe collector, the condenser zone of the heat-pipe is inserted to the copper sleeves which are distributed on the water pipe averagely.
2. After the solar energy is absorbed by the vacuum tubes, it is transferred to the heat-pipe through the aluminum fin.
3. Heated by the energy, the medium in the heat-pipe is working and transferring the heat energy to the condenser zone.
4. When water or other medium in the water pipe flows across the copper sleeves, they would bring the energy and be heated.
5. The heated water or other medium makes water in the tank hotter and hotter by walking across the coils in the tank.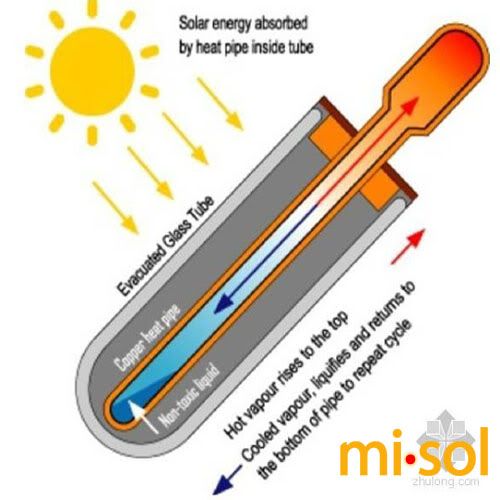 Heat pipe water heat pipe specification:
Flow type

Heat pipe

Heat pipe material

T2 copper

Heat pipe size

Top condenser: Ø14* 1mm;

Body: Ø8* 0.7mm

Tube diameter

φ47/1500mm or φ58/1800mm

Solar vaccum glass tube

High boron-silicon

Coating of absorber on glass tube

Al-N-Al,Copper,Stainless steel

fins around heat pipe

long Aluminum(1.68m)

Thickness of vacuum tube(mm)

1.6

Vacuum

P<5x10-3Pa

Heat transfer liquid

Water, Anti-freeze Fluid (Water-Glycol)

Max working temp

300C

Thermal Expansion

3.3x106° C

Absorptance

> 92%(AM1.5)

Emittance

< 8% (80° C)

Heat Loss

< 0.8W / (m² ° C)

Maximum Strength

0.8Mpa