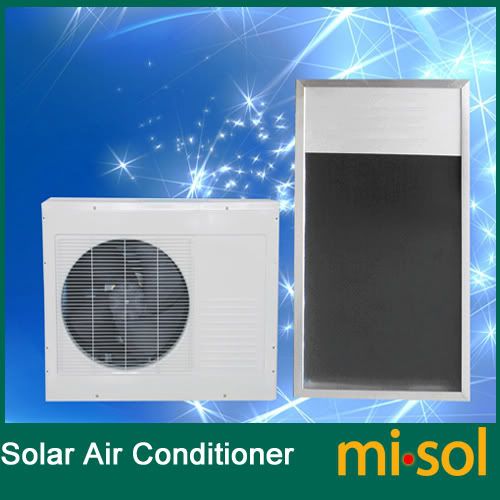 Why Hybrid solar air-conditioner can save electricity?
Here are the reasons:
Firstly, it absorbs solar energy to heat the inside medium by using a solar collector. Freon from the compressor goes through the copper coil inside the collector and undertakes a heat exchange. Freon exchange heat with the medium inside the solar collector then go through a cycle inside the system for cooling and heating.
Secondly, it adopts a highly efficient heat-exchange system. The use of the internal thread pipe, hydrophilic aluminum fin and the optimal heat exchange system reduce energy loss, improve the overall efficiency and effectively ensure the performance. Therefore, hybrid solar air conditioner is more convenient and energy-saving than regular air conditioner.
Comparing to Current Products:
1. Conventional air conditioner consumes too much, users have to pay a heavy electricity bill.
2. Photovoltaic (PV) system costs a large amount of money to build up.
3. Thermally driven absorption cooling is also very costly, and its cooling capacity is not big enough
Model No.
TKF(R)-26GW
TKF(R)-32GW
TKF(R)-35GW
TKF(R)-60GW
TKF(R)-72GW
Power Supply:220-240VAC, 1PH, 50Hz
 
 
Performance
 
 
Capacity
Cooling
Btu/h
9000
11500
12000
20000
24000
W
2600
3200
3500
6000
7200
Heating
Btu/h
10000
12000
13000
22000+1700
27000+1700
W
2900
3500
3800
6600+500
7900+500
Noise
Indoor
dB(A)
≤40
≤42
≤42
≤46
≤50
Outdoor
dB(A)
≤50
≤50
≤52
≤56
≤58
Air Circulation
m³/h
450
520
550
850
1050
Suitable Area
m²
11~17
13~21
15~23
25~42
30~48
EER
W/W
3.64
3.72
3.89
3.88
3.82
Btu/h/w
12.42
12.69
13.27
13.24
13.03
Power Consumption
 
 
Power Input
Cooling
W
650~770
780~940
800~1025
1350~1560
1700~1900
Heating
W
650~780
780~950
800~1050
1350~1590+500
1700~1950+500
Rated Current
Cooling
A
2.95~3.50
3.55~4.27
3.64~4.66
6.14~7.09
7.73~8.64
Heating
A
2.95~3.55
3.55~4.31
3.64~4.77
6.14~7.23+2.2
7.73~8.66+2.2
Dimensions
 
 
Indoor Unit
Net
mm
700*230*160
785*285*210
785*285*210
985*320*215
985*325*230
Shipping
mm
822*315*250
910*370*300
910*370*300
1070*370*260
1070*370*260
Outdoor Unit
Net
mm
610*260*520
790*260*540
790*260*540
850*300*755
940*300*755
Shipping
mm
670*360*600
910*370*610
910*370*610
950*400*770
990*400*770
Collector
Shipping
mm
1120*600*130
1120*600*130
1120*600*130
1120*600*130
1120*600*130
Weight
 
 
Indoor Unit
Net/Gross
kg
8/10
10.5/13
10.5/13
17/18.5
21/23
Outdoor Unit
Net/Gross
kg
27/32
38/40
38/40
50/52
55/58
Collector
Net/Gross
kg
16/17
16/17
16/17
16/17
16/17
Loading Qty
in 20feet
sets
72
72
72
59
58
 
40HQ
sets
175
175
175
144
141
Quotation
Freon:R410