Features:

1. Wireless Frequency: 433Mhz
2. Color display receives wind speed, direction, rainfall, temperature, humidity, UV and Solar Radiation from the outdoor sensor array wirelessly, and barometric pressure, humidity and temperature from the indoor sensor.
3. The receiver(display) can connect to Wi-Fi, and upload the data to web: www.wunderground.com, wow.metoffice.gov.uk, www.weathercloud.com (Remark: The weather station only supports the 2.4 GHz band. )
4. The receiver(display) can store the historical data, which can also be copied to TF Card (optional), in format (*.csv), which can read out in Excel on the computer)
5. The color display also display the measured parameters with calculated data:Wind Chill and Heat Index, Dew Point, Wind Speed and Direction (averaged once per second over 16 seconds), Gust (the maximum wind speed sampled once per second in the 16 second update period), 10 Minute Wind Speed and Direction Average, Sunrise, Sunset, Moon Phase, Forecast, and more.
6. Supports up to 8 thermo-hygro sensors(optional, to be sold separately, sensor model: WH31), you can place the optional thermo-hygro sensors in different locations nearby for monitoring.
(Remark: if you need the extra sensor, please inquiry us)
7. There're 2 backgrounds (light and dark colored) for the display, it is easy to read in the day time or night time.
8. There's an AC adaptor for receiver(display), which need be plugged in all of the time to view and log data.

9. Indoor/outdoor Temperature in C/F.

10. Wind speed in m/s, km/h, mph, knot and bft.

11. Rainfall (inch or mm): rainfall hour, day, week, month and total.

12. Pressure in hpa, or inhg unit.

13. Alarm setting for indoor & outdoor temperature & humidity, Dew point, ABS Barometer, REL Barometer, wind, Hourly Rain, Daily Rain.(remark: it doesn't alarm for the optional multiple channel thermo-hygro sensors)

14. MAX/MIN data records with time stamp.

15. User accuracy calibration supported

16. Moon Phase

17. Sunset/Sunrise with time stamp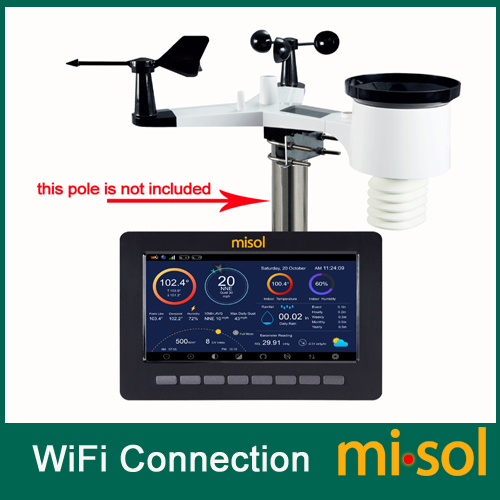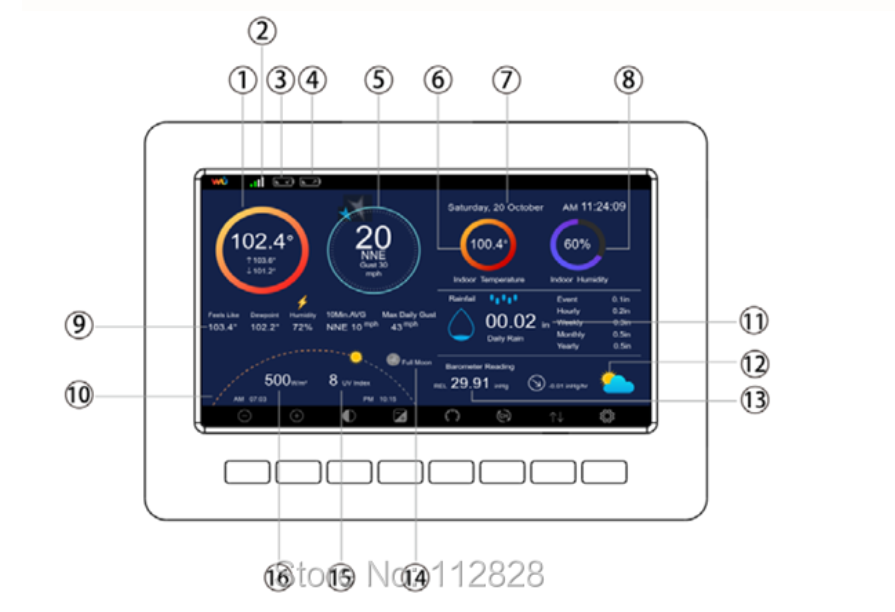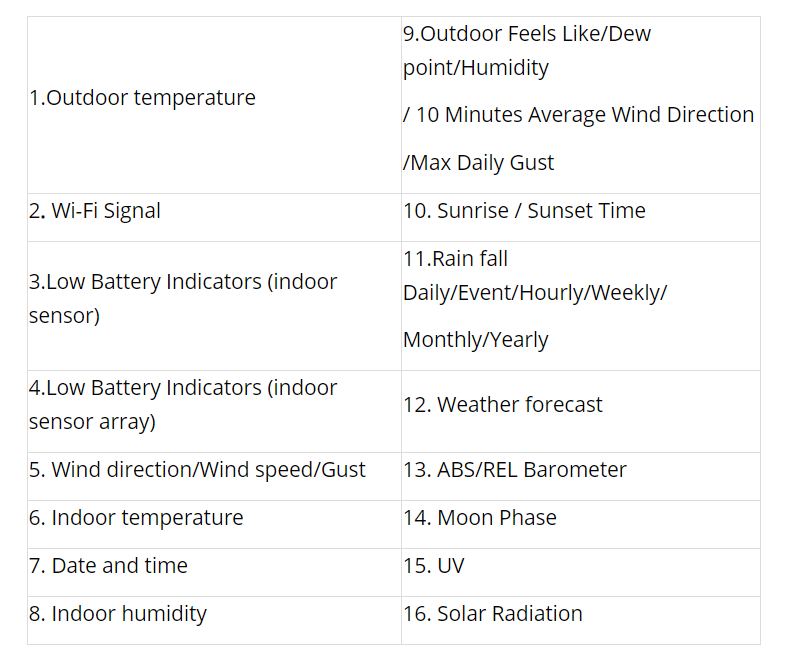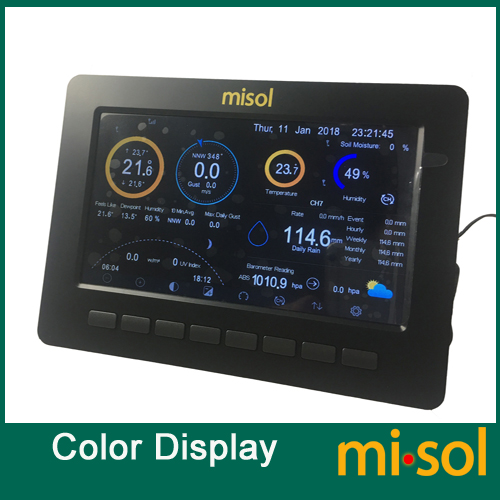 Specification:
Outdoor data
Transmission distance: Max. 100meter (330 feet)
(tested in open field, no obstacle in between, no interference in between)
RF Frequency: 433 MHz
Temperature range: -40~+60°C

Accuracy : +/- 1˚C, Resolution:0.1˚C
(remark: in the cold weather, battery will stop working. Lithium battery is recommended.)
Humidity range:10%~99%

Accuracy : +/- 5%, Resolution: 1%
Rain volume: 0 - 6000 mm

Resolution:0.3mm (if rain volume < 1000mm), 1mm (if rain volume > =1000mm)
Accuracy : +/- 10%
Wind speed: 0-50m/s (0~100mph)

Accuracy: +/- 1m/s (wind speed< 5m/s), +/-10% (wind speed >=5m/s)
Wind direction: 0 to 359 degree

Light: 0-120k Lux

Accuracy : +/-15%
UVI: 0-15

Accuracy : +/-15%
Measuring interval: 16 sec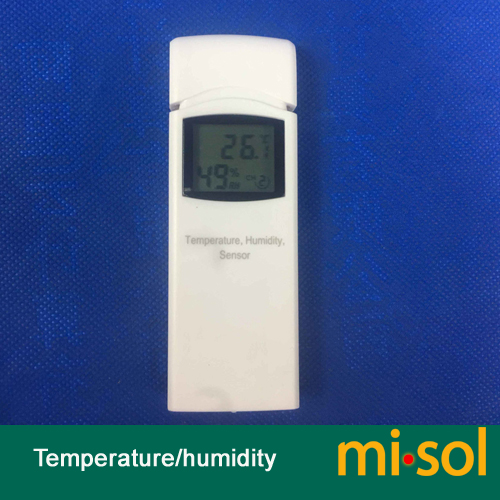 Indoor data
Indoor temperature range: 0˚C--60˚C
Resolution : 0.1˚C
Accuracy : +/-1˚C
Humidity: 10%~99%

Resolution:1%
Accuracy : +/- 5%
air pressure range : 300-1100hPa (8.85 -32.5inHg)

Accuracy : +/-3hpa
Resolution : 0.1hPa (0.01inHg)
Measuring interval indoor sensor: 60 sec
Alarm Duration: 120 seconds
Power Consumption:
Base station: 5V DC adaptor (included)
Indoor sensor: 2 x AA 1.5v batteries(not included in the package)
Outdoor sensor: 2 x AA 1.5V batteries (not included in the package)
(Remark:The primary power source is the solar panel, the solar panel will charge the power to the inner super capacitor. The batteries provide backup power when there is limited solar energy. So, don't put the rechargeable batteries into it. In the winter, it is cold, Lithium batteries is strongly suggested)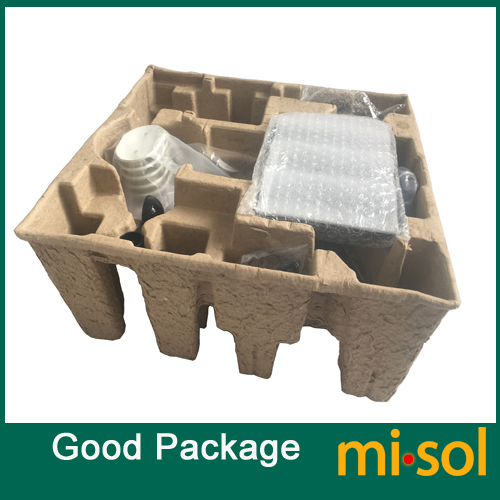 Package included: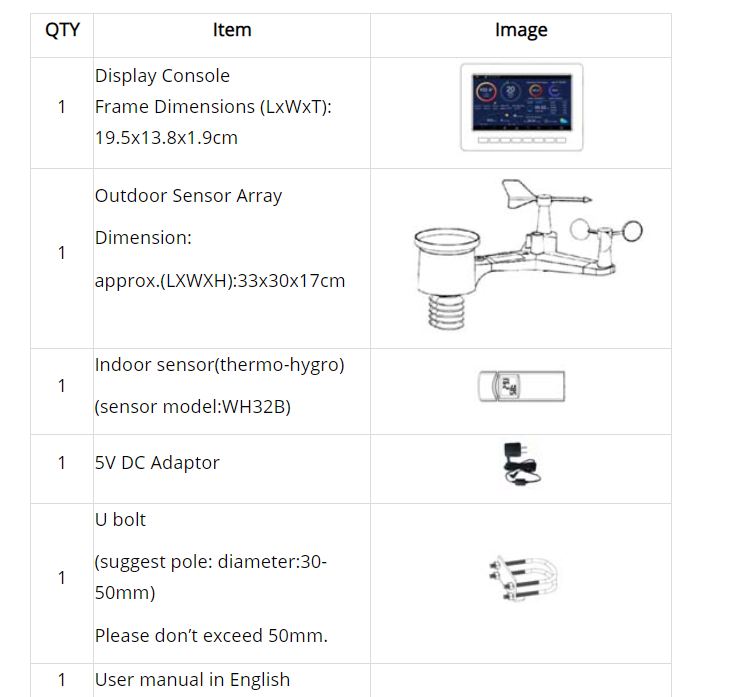 Remark: there's no pole included in the package. Customer can customize the pole according to the actual installation requirement.